Santorini is truly beautiful in places and manages to stay classy where so many Greek islands have given up. That said, sunburnt drunk tourists on quad bikes can be found without too much difficulty and the place is not without a smattering of traditional Irish bars (that I was forced to visit for some essential rugby screenings). The impressively high prices predominant across the island for any product or service, however, ensure that the majority of visitors are those keen to take in its beauty and not just people after cheap booze and a tan. Luckily, I'm a classy broad and was there for the vista…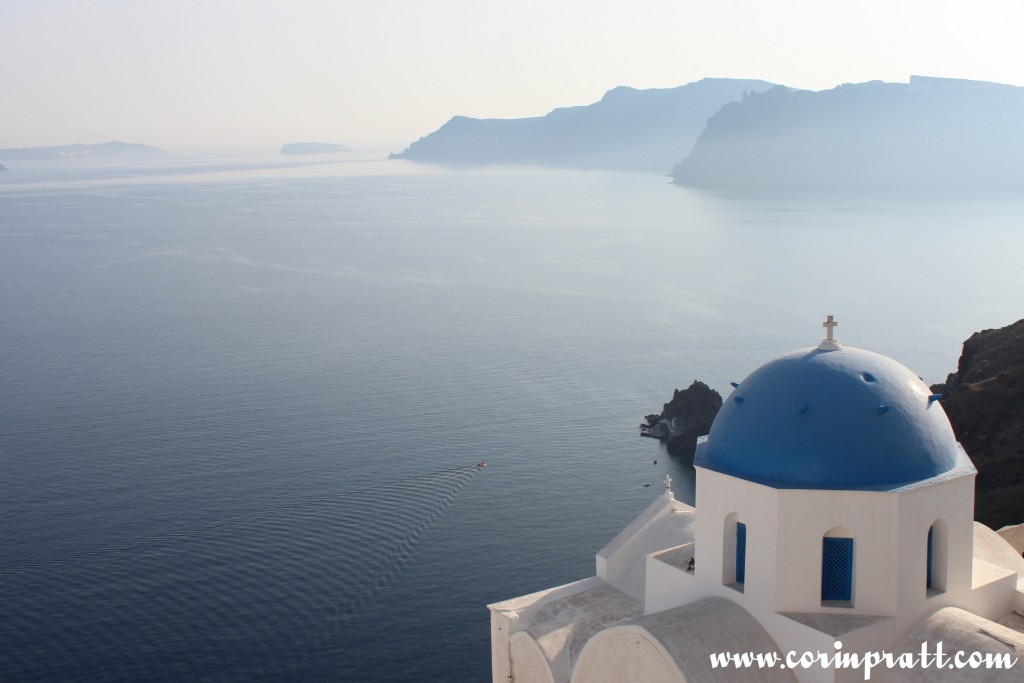 I visited the island late in the season and was pleased to avoid the mid-summer hordes. My girlfriend and I signed up to a fairly generic day tour to visit some of the harder to reach spots like the volcano and the island of Thirassia and had a really good day; the best bits being when we ditched the crowds and had a wander. The volcano visit was interesting, with our tour guide shouting aggressively whilst re-enacting historic eruptions to keep us focused for the best part of an hour. I've never seen a more convincing volcano portrayal and I doubt I ever will. From the volcano the boat took us to "bathe in the warm volcanic springs" which sounded idyllic. After a decent swim from our vessel we entered the mouth of the hot spring area, at which point we were smothered by a pungent sulphurous fug. Next to greet us was a suspension of brown volcano gunk which we found coated every surface and offered an intriguing toe sludge massage upon standing. After five minutes of bathing in the sludge we were herded back to the boat, where it was revealed that all pale clothing worn during our swim had been stained brown. Next we headed over to the isle of Thirassia where we took the chance to escape, abandoning the crowds to the restaurants and cafes whilst we trundled up the steep main path to explore the few streets and whitewashed houses above. As seems so often to be the case on my Mediterranean adventures I stopped to chat with some donkeys and whilst stopped took the chance to  appreciate the amazing view of the harbour from above.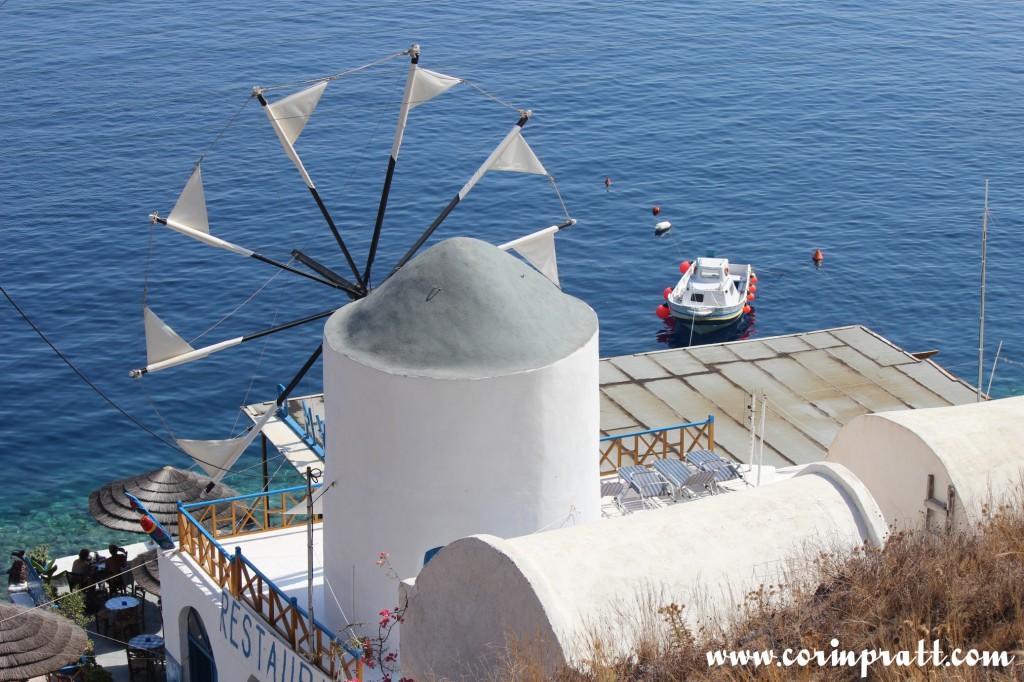 After a heavenly swim in the aquamarine harbour waters and a chat with a nice chap from Australia we hit the road (sea) again and made our way over to Oia, the postcard town of Santorini. One of my favourite bits of Oia was witnessing an American girl have a tantrum after her boyfriend hired a donkey to take her up to the town from the harbour. As we trotted ahead on foot we could hear the lilting tone of this southern belle as she screeched profanities from atop her noble steed. It wasn't quite as romantic an experience as the boyfriend had planned, but everyone else really enjoyed it. The donkey remained nonplussed by the whole event, clearly used to transporting melodramatic passengers.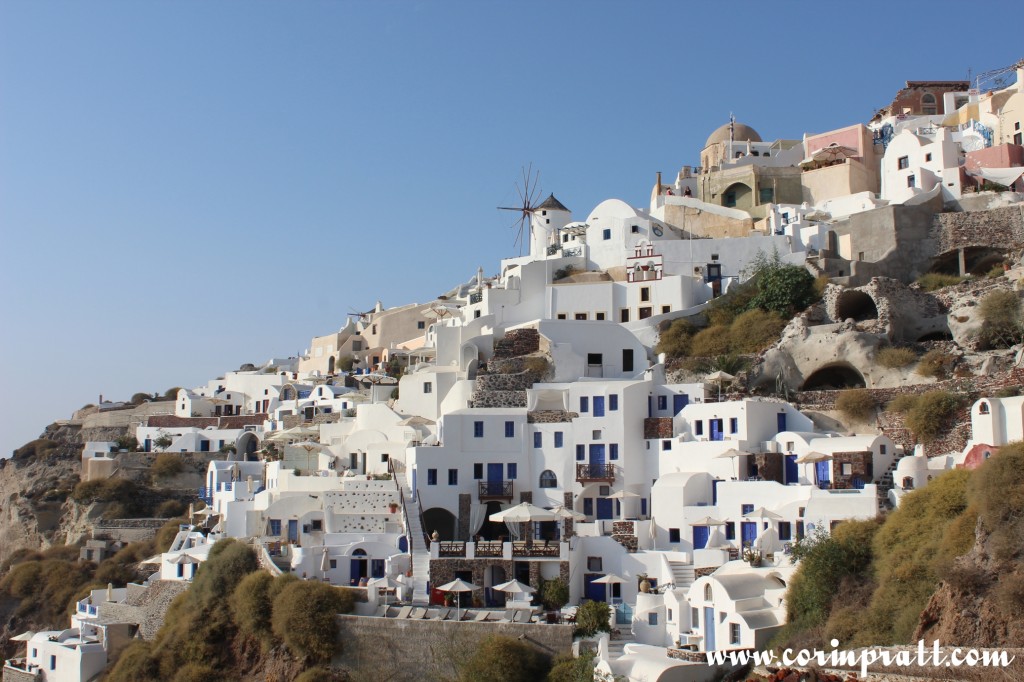 Oia itself was very pretty, planted throughout with vivid flowers adorning courtyards and the walls of its famous blue-domed whitewashed buildings, which were as appealing as they had appeared on postcards. The boutique and extravagantly priced hotels built into the cliff side – pools and all – were stunning and will certainly host my next lottery-celebration visit to Santorini. We took in the sunset over Oia from the ruins, which was spectacular and uninterrupted by crowds that failed to materialise despite warnings from our guide.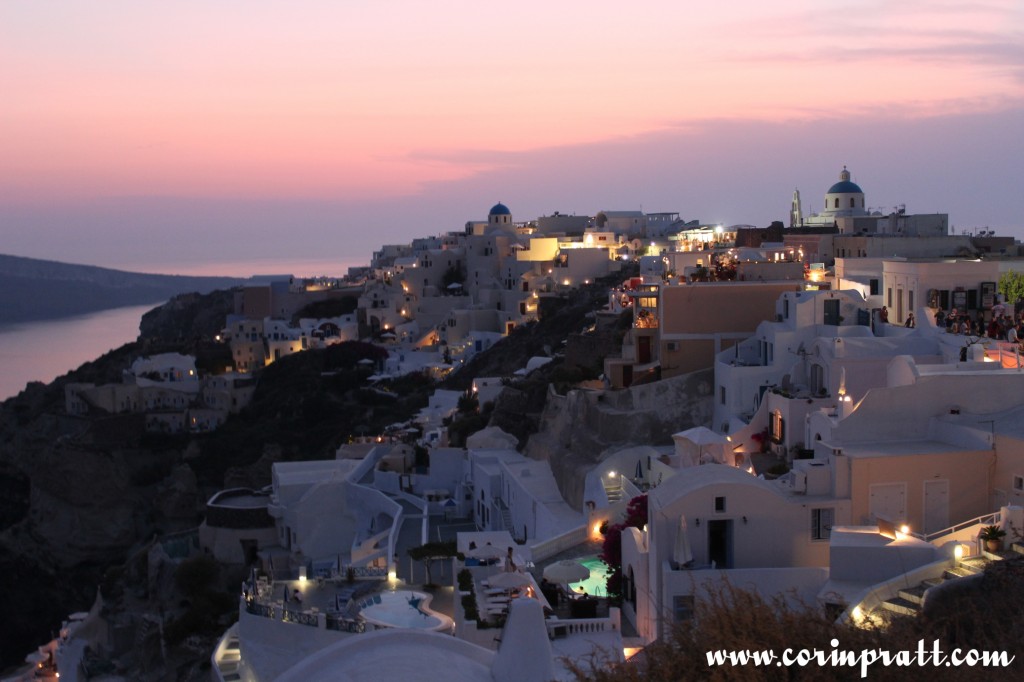 After a cold beer in the warm twilight we made our way back to Kamari and our hotel. We had a meal of canned Greek goodies – stuffed vine leaves, butter beans and roasted peppers – on the balcony and attempted to enjoy a game of cards and a bottle of Greek white wine. The cards were as expected, uniform and rectangular. The wine was not. The wine was poisonous.
The rest of the days were filled with fun and sun. We hired a car, took it back because the locks didn't work and the engine didn't work and the brakes didn't work. We hired another car, visited towns large and small, found isolated beaches and ate quite a lot of ice cream.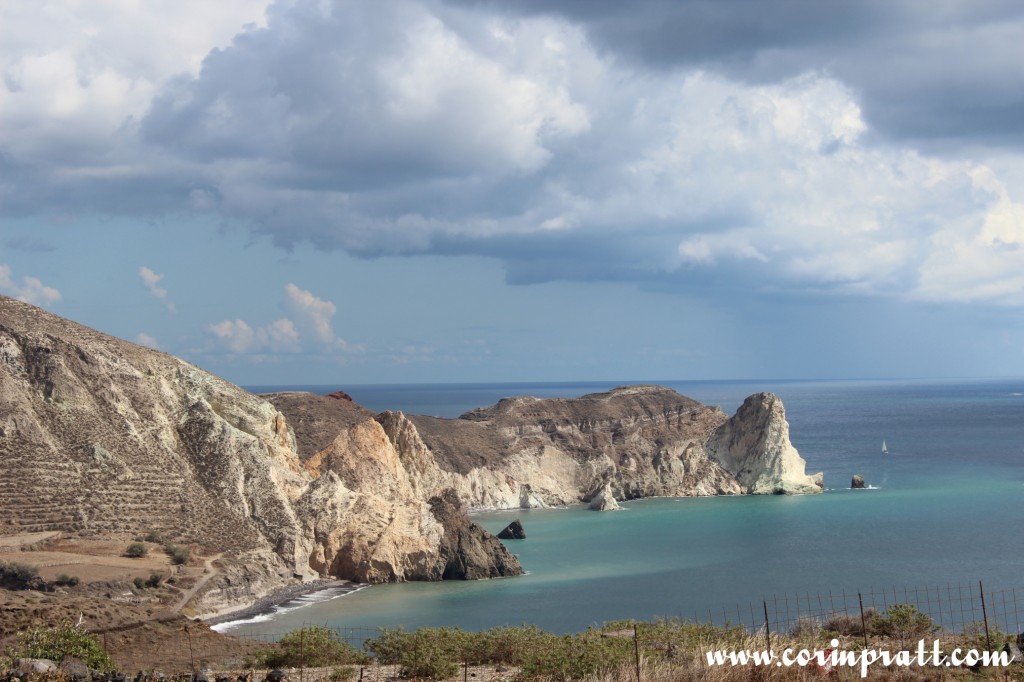 We returned to Oia for another sunset and a meal in a beautiful cliff-side restaurant and spent many hours reading and lounging on black volcanic beaches with cold beers and factor 50 sun cream.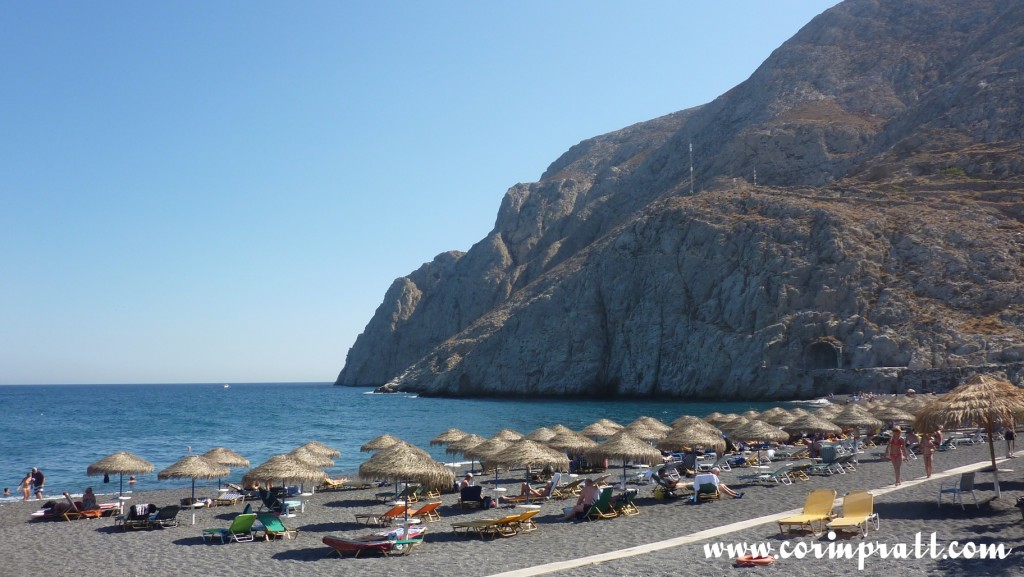 One of the nicest days was had after heading over to the usually popular Perissa just after some rain. The sun came out, the beach was ours and we were treated to a 45 minute massage each on the black sands by a woman roaming the shoreline. She was a masseuse, that's an important point to make, and she had the hands/elbows/knees of an angel! That night we had a traditional Mexican banquet after a tip-off from a long-term holiday rep based in Kamari and watched an incredible sunset over the volcano, enhanced no end by a sizzling plate of fajitas.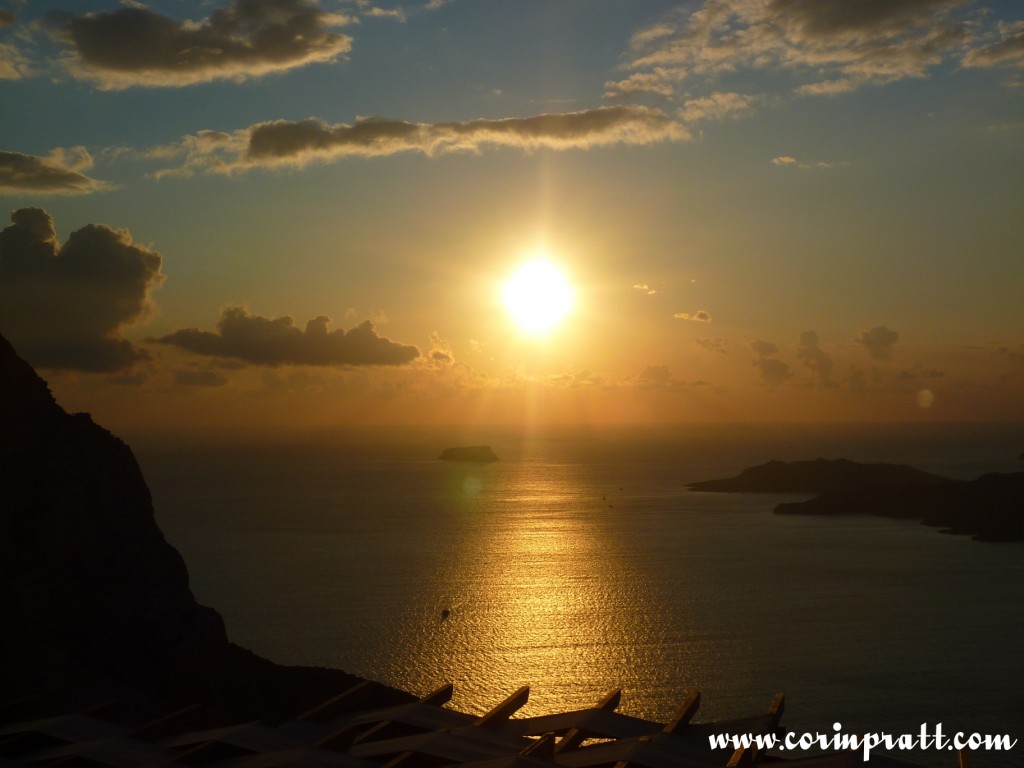 We had a brilliant time in Santorini and found the island to be as beautiful as we'd hoped. I'd certainly recommend a visit, and off-peak if you don't mind a bit less sun – the lack of crowds makes all the difference when trying to convince yourself you're a traveller on an undiscovered paradise island and not just another tourist on a package deal to Greece.